Christ is Born! Glorify Him!
Our services are streamed live on the internet.
at our Saint Catherine website - www.stcatherine-wpb.org
Join us for Orthodox Divine Liturgy every Sunday at 10:00 a.m.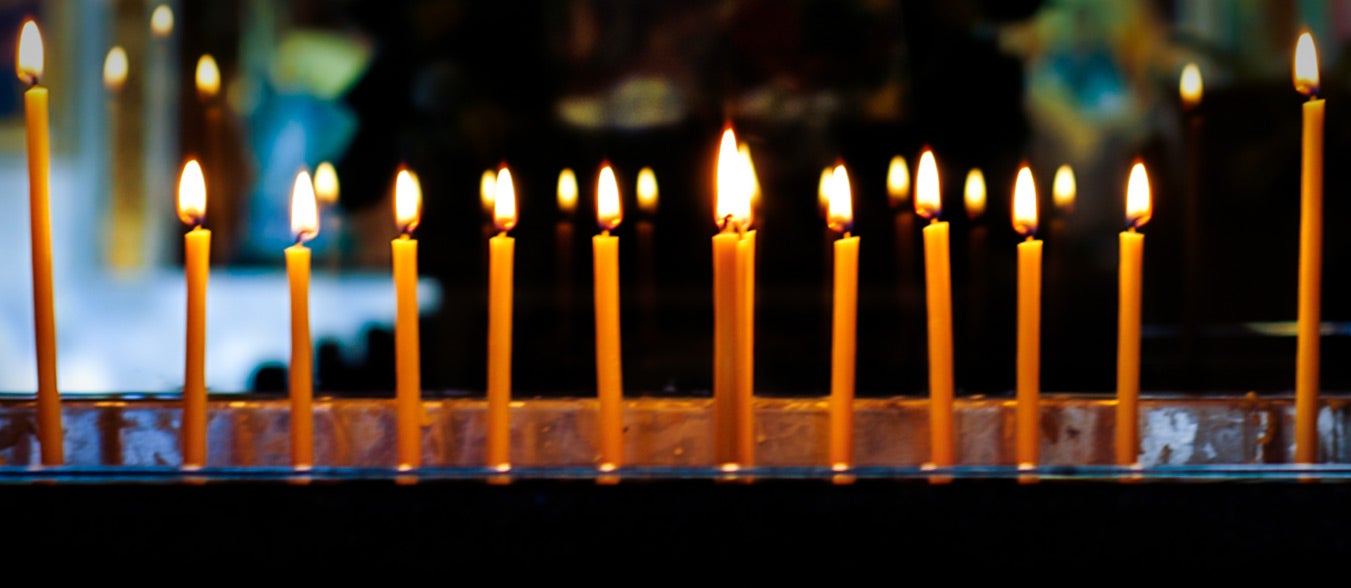 Light a candle and offer a prayer at Saint Catherine (click above). The online form sends the names of your family and friends direct to Father Andrew at the altar; prayers are offered during at the Proskomidi in preparation for the Divine Liturgy!

Click above to place a Saint in a Pew at Saint Catherine
This Sunday is the 9th Sunday of Luke.
We are now in the Nativity Fast which is one of four main fast periods throughout the ecclesiastical year. Beginning on November 15 and concluding on December 24, the Nativity Fast gives individuals the opportunity to prepare for the Feast of the Nativity of Our Lord and Savior in the Flesh on December 25. By abstaining from certain food and drink, particularly from meat, fish, dairy products, olive oil, and wine, as well as focusing more deeply on prayer and almsgiving, we can find that the primary aim of fasting is to make us conscious of our dependence upon God.
____________
COVID-19 has had a major impact on the lives of our faithful. It has severely affected the operations of our parish. Though we may now meet for church worship, we do so with restrictions on attendance numbers, wearing masks in church, and with distancing requirements. By abiding with these we express our love for one another in every sense of the word.
Our church finances are greatly suffering. We are thankful for all our parishioners who have continued to offer their financial support. Stewards thank you! Please join our 2020 stewards in supporting our parish ministries. Many thanks to all our parishioners who have responded and who continue to respond to the COVID-19 appeal! The Donate buttons here and on our website lead to our online giving site. Again, thank you for your support!
We continue to safely accomodate the number of parishioners who attend while maintaining the six foot 'social distancing' requirement. Should our attendees exceed the capacity which we can accomodate, the church will remain open for a brief time following the Divine Liturgy to commune the faithful who were not able to be present in the church proper.
Holy Communion is offered in the traditional manner at the conclusion of the Liturgy. Everyone is to approach by the center aisle pew-by-pew, maintaining your distance in the line using the designated social distancing X's that have been placed in the center aisle. You may remove your masks momentarily to receive Holy Communion. Please do not touch the red communion cloth; it will be held underneath your chin. Those not receiving Holy Communion are in the same line and will not stop for Holy Communion but continue to the Antidoron by the side exit door.
Our church sanctuary is sanitized between services. Please faithfully observe all precautions as we continue to protect our parish family from the coronavirus.
____________
CDC Website for current Coronavirus updates: www.cdc.gov/coronavirus
This Week at Saint Catherine
Sunday, November 22
8:45 am Orthros - Link to the Orthros Service text
10:00 am Divine Liturgy - Link to the Divine Liturgy text
Monday, November 23
7:00 pm Bible Study by Zoom Video.
The video link will be on the Home Page of our website on Monday before the Bible Study. This November Bible Study is focusing on Saint Paul's letter to the Hebrews
Tuesday, November 24
7:00 pm Saint Catherine Great Vespers
Wednesday, November 25 ~ Feastday of Saint Catherine
9:00 am Orthros
10:00 am Divine Liturgy
Thursday, November 26 ~ Thanksgiving Ministry
Sunday, November 29
Philoptochos Toy Collection Box for the Childrens Home Society in Church
2020 Stewardship We thank those who have fulfilled - or are continuing to fulfill - their financial pledge for this year. We respectfully ask that those who have yet to begin their financial support to please do so.
Youth Safety Resources
We're committed to connecting young people with Jesus Christ. To do that, we need to create ministry environments that are safe and health. For more on how you can help, please visit our new Youth Safety website: goarch.org/safety.

Many of our Divine Liturgies have been recorded and can be viewed at www.youtube.com. Subscribe to our new YouTube channel for 2020:
Saint Catherine Greek Orthodox Church (2020 services)
Saint Catherine Greek Orthodox Church (2017-2019 services)
Shop with Amazon, donate to Saint Catherine

Amazon Smile is a program that allows for 0.5% of your eligible Amazon purchase to be donated to our Saint Catherine Church (No Added Cost To You). To sign-up visit Sign up for Amazon Smile and press "Select" next to our church name. Then remember to log in to "smile.amazon.com" when you shop.
________________________
Family Life Blog

Our Metropolis of Atlanta Family Life Blog has wonderful inspiring material for families and each of us as individuals. Read and share the Family Life blog which is at: https://www.engageorthodoxy.net
.
Orthodox Christian Programs
We have Orthodox Christian programs available 24 hours a day, seven days of the week. There is the weekly Come Receive the Light program and three channels of content to listen to in addition to special presentations in the form of podcasts, articles and videos. Take a break from your routine to read / listen / watch the Orthodox content from the Orthodox Christian Network (OCN). All are all available at: http://myocn.net/