Christ is in our midst! He is and ever shall be!
Our services are streamed live on the internet.
at our Saint Catherine website - www.stcatherine-wpb.org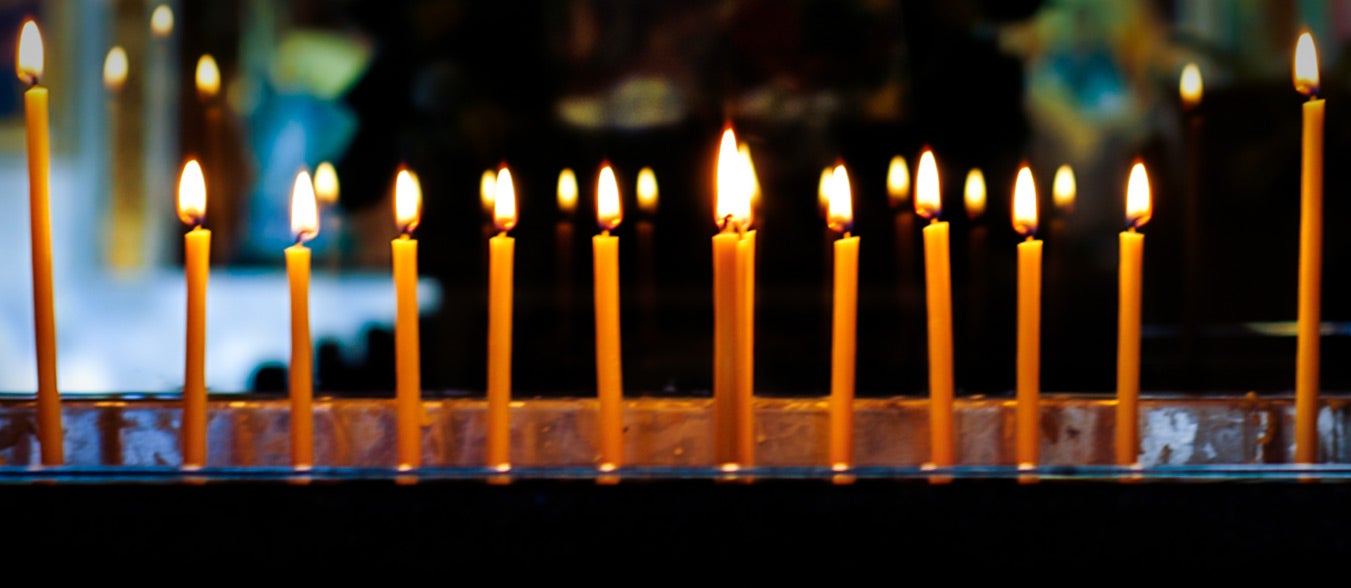 Light a candle and offer a prayer at Saint Catherine (click above). The online form sends the names of your family and friends direct to Father Andrew at the altar; prayers are offered during at the Proskomidi in preparation for the Divine Liturgy!

Click above to place a Saint in a Pew at Saint Catherine
This Sunday is the Fifth Sunday of Saint Matthew's gospels. We commemorate the newest saint of the Church, Saint Paisios the Athonite, the beloved holy elder of Greece. He was canonized on January 13, 2015 by the Holy Synod of the Ecumenical Patriarchate. Saint Paisios was born in July 25, 1924 in the humble village of Farasa in Cappadocia, Asia Minor – modern day Turkey. A week following Saint Paisios' baptism the Turks drove out all of the Greeks from Asia Minor, sending them on a 400-mile exodus to Greece, where his family settled in Epiros. In 1950 he went to Mount Athos, where he remained for most of the rest of his life, growing in spiritual stature through prayer, fasting, and many ascetical practices. Saint Paisios is one of the most beloved modern saints in the Orthodox world because he was able to speak to us in contemporary language, using simple analogies that communicated deep spiritual wisdom. Central to Elder Paisios' spiritual life were the virtues of love, humility, and sacrifice. Depicted in his icon is a scroll in his hand which contains one of his well-known sayings, "Love and humility are the frequency in which God works" – meaning that we should turn the dial of our heart to the frequency of love and humility, so that God can work in us. He often described how our ego and selfishness push away God and those whom we love.

____________
We have resumed Sunday services for the entire congregation. Evaluating our summertime attendance, we see that we can safely accomodate the number of parishioners who attend while maintaining the six foot 'social distancing' requirement without the attendance groups we used the first three Sundays after our reopening. Should our attendees exceed the capacity which we can accomodate, the church will remain open for a brief time following the Divine Liturgy to commune the faithful who were not able to be present in the church proper.
Please follow the directions of the Parish Council and Ushers for receiving communion - maintain your distance in the line using the designated social distancing X's that have been placed in the center aisle. You may remove your masks momentarily to receive Holy Communion. Holy Communion will continue to be distributed in the traditional manner. You may not touch the red communion cloth, it will be held underneath your chin by the assigned adult helper.
Our church sanctuary is sanitized between services. Note that there is an increase in coronavirus cases in Palm Beach County and observe all precautions.
Please read the COVID-19 Update from His Eminence Metropolitan Alexios in the Metropolis section of this bulletin.
____________
CDC Website for current Coronavirus updates: www.cdc.gov/coronavirus
This Week at Saint Catherine
Sunday, July 12 ~ The Fifth Sunday of Matthew
8:45 am Orthros - Link to the Orthros Service text
10:00 am Divine Liturgy - Link to the Divine Liturgy text
1:30 pm HDF Team Meeting via Zoom
Wednesday, July 15
7:00 pm Parish Council Meeting
Friday, July 17
1:00 pm Parish Council Stewardship Meeting
2020 Stewardship
The theme of our 2020 Stewardship program is A Time for Every Purpose Under Heaven: The Stewardship of Time. We invite you to become sustaining stewards of our Saint Catherine ministries!
Youth Safety Resources
We're committed to connecting young people with Jesus Christ. To do that, we need to create ministry environments that are safe and health. For more on how you can help, please visit our new Youth Safety website: goarch.org/safety.

Many of our Divine Liturgies have been recorded and can be viewed at www.youtube.com. Subscribe to our new YouTube channel for 2020:
Saint Catherine Greek Orthodox Church (2020 services)
Saint Catherine Greek Orthodox Church (2017-2019 services)
Shop with Amazon, donate to Saint Catherine

Amazon Smile is a program that allows for 0.5% of your eligible Amazon purchase to be donated to our Saint Catherine Church (No Added Cost To You). To sign-up visit Sign up for Amazon Smile and press "Select" next to our church name. Then remember to log in to "smile.amazon.com" when you shop.
________________________
Family Life Blog

Our Metropolis of Atlanta Family Life Blog has wonderful inspiring material for families and each of us as individuals. Read and share the Family Life blog which is at: https://www.engageorthodoxy.net
.
Orthodox Christian Programs
We have Orthodox Christian programs available 24 hours a day, seven days of the week. There is the weekly Come Receive the Light program and three channels of content to listen to in addition to special presentations in the form of podcasts, articles and videos. Take a break from your routine to read / listen / watch the Orthodox content from the Orthodox Christian Network (OCN). All are all available at: http://myocn.net/